So you want a new home, but don't want to just purchase a cookie-cutter home from a local developer. But where do you start when it comes to ensuring your new home is custom-designed to match your unique vision? Here at WSL Incorporated, we don't just build homes, we also have in-house designers who will discuss your new home wants and needs and come with a plan just for you that matches your specifications.
In addition, because we also build homes, and have over 35 years of experience in all aspects of custom home building and design throughout in New Bloomfield, Elliottsburg, Perry County, and Dellville, PA and surrounding areas, we can give you the right type of advice to ensure your home is planned to fit your lot and your new neighborhood or surroundings.
Our custom design and drafting services include: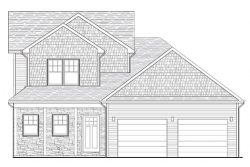 Custom floor plans and drafting
Help with obtaining building permits
Complete custom plans and documentation
Site development and planning
Project management services
Certified Aging in Place Specialist designs if necessary
Custom Designs for Your Renovation or Remodel
Maybe you're thinking about remodeling your existing home or knocking down walls to create that open concept kitchen and great room you've always wanted. No matter what your plans are, the foundation of any custom home remodel is the design or the floor plan. Our design and drafting service here at WSL, Incorporated can get you on the road to making your existing house into the custom home of your dreams. In addition, our ADA contractors or Certified Aging in Place Specialist certification means we can also help you with making custom home plans to make your home adaptable so you can remain in your own home throughout your entire life.
Ready to get started with our design and drafting services? Contact us today so we can help you turn your dream home or home additions into a reality!