As an experienced drafting company and designer of custom floor plans in Cumberland County, Dauphin County, Hershey, Dillsburg, and Camp Hill, WSL Incorporated wants to help you get the type of home you've always wanted. Our experienced team takes the time to consult at length with you, capturing in perfect detail the features, amenities and styles you want present in your ideal home. We put it all down on drafting paper, sketching a design that will eventually become your very own, one-of-a-kind home.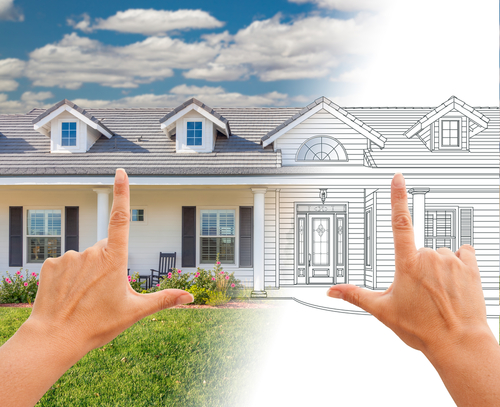 Consultation:
Our team for custom luxury home designs in Pennsylvania sits down with you to discuss your vision for a unique home at length. We learn your broad needs and wants and work with you through each room of the home to help you narrow down the styles and traits you want to see prevalent throughout the design. We're also happy to make recommendations about materials and design elements to clarify your vision.
Drafting:
Once we're done consult with you, we go back to the drafting board and put your ideas down in the form of a comprehensive sketch. Our experts map out every square foot of your home, complete with the layout, amenities and features discussed. We fill in the gaps and connect everything together with style and charm that matches your overarching design preferences.
Review:
Once your plans are drawn and fully contextualized, we'll review them with you so you can get a true feel for how your custom home will look and feel when it's built. We can give you a complete tour on paper, getting your feedback on each aspect of the draft and answering any questions you have about the design. Once it's finalized, we'll get to work building it true to form!
Finalization:
Finalization is the last step before construction. Once you sign off on the plans, we'll get any permits, build documents, development details and other plans in order, so everything can be executed without delay.
We're with you every step of the way in your new custom home designs—from the initial consultation, to any drafting revisions, to the finalization of plans.
Certified Aging in Place Specialists
We want your custom home to last you for decades, which means planning ahead for the future. We have Certified Aging in Place Specialists on staff who can identify areas in the planning and design of your home where the design can be adapted to make life easier and safer for aging individuals. Our team will make sure your home feels as welcoming and cozy decades from now as it does today.
Perfect, Custom Floor Plans
Whether you dream of a two-story, two-car garage home that's filled with accents unique to you or you want a simple, affordable ranch that's comfy, cozy and quaint, WSL Incorporated will bring it to life. Contact us today to begin working on custom floor plans in Pennsylvania with our team. Contact us at 717-582-3423 to schedule a one-on-one consultation for designs for new home additions, commercial remodeling, and more.