As an adult whether you're aging or have physical limitations due to a disability or injury, you still want to be independent and live in your own home. But how do you make your own home or find a new home that allows you do things for yourself and remain safe from injury? The answer is by finding a licensed ADA contractor like WSL, Incorporated that is also a Certified Aging in Place Specialist (CAPS). We understand that you want to remain in your own home and we can help you achieve that goal even when physical limitations may make that difficult.
We've successfully guided clients throughout Cumberland County, PA through the process of modifying their homes or custom designing their own home so they could maintain their independence, including clients in Cumberland County, Dauphin County, Perry County, Juniata County, Adams County, Franklin County, Mifflin County, and beyond. In addition to our residential customers, we've also helped commercial clients, including educational and government clients on building projects designed to make their facilities accessible and up to current ADA standards.
View Gallery View Our Brochure
Take a look at all the projects a Certified Aging in Place Specialist and ADA contractor can help you live independently: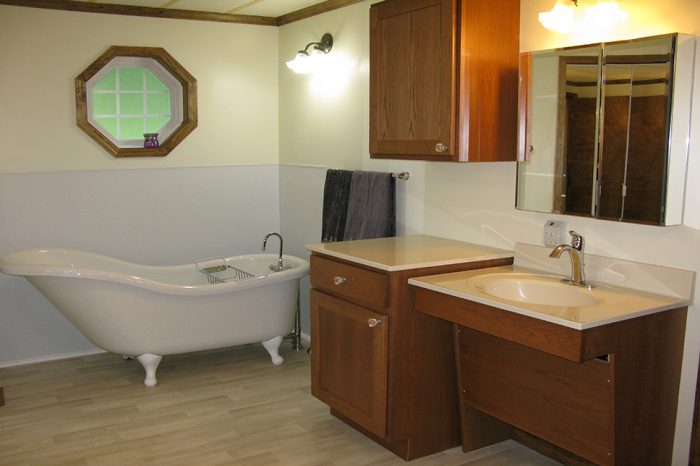 Kitchen remodeling:
Our Certified Aging in Place Specialists can remodel your kitchen to make it more efficient and accessible as well as beautifully designed.
Bathroom remodeling:
We can remodel your existing bathrooms with ADA compliant accessible showers and bathtubs as well as roll under vanities.
Building 1st-floor bathrooms:
Whether you're converting a 1st-floor room into a suite for a disabled family member or aging parent or you can't manage stairs anymore, our CAPS team can help you design and build a bathroom on the 1st floor of your home.
Widening doorways:
Standard doorways are usually too narrow for a wheelchair or walker to easily get through. We can help make all the rooms of your home accessible by widening the doorways.
Installing chairlifts:
When managing stairs is difficult one solution is a chair or stair lift. We can walk you through the process of choosing the one that's right for you and then install it.
Installing home elevators:
Another solution when your home is 2 or more levels is to install an elevator so you can independently access all the floors without help.
Because of our experience as an ADA contractor and our CAPS training and certification, we can give you the answers to any questions you might have about everything from remodeling your kitchen and bathrooms to installing home elevators and more, so you can live as safely and independently as possible in your own home. Plus we guarantee all of our home modifications for 2 full years and we partner with occupational specialists to identify immediate and future modification needs based on your unique situation or disability.
So whether your goal is to age in place or you have a disability, we can help you modify your home. Contact us to arrange your Aging in Place or ADA accessibility consultation today.