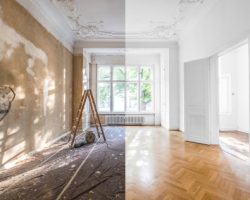 Home renovation and remodeling projects are on the rise as homeowners seek to improve their living spaces and increase the value of their properties. With evolving design preferences and advancements in technology, contractors have to stay updated with the latest trends to meet their clients' expectations. In this blog post, we will discuss some of the current trends in the industry and how contractors are adapting to them.
1. Sustainability and Eco-friendly Practices:
As environmental concerns continue to grow, homeowners are increasingly looking for sustainable and eco-friendly renovation options. Green building practices, such as using energy-efficient appliances, recycling materials, and incorporating renewable energy sources, have become popular. Home renovation and remodeling contractors are now incorporating eco-friendly practices into their projects, such as using low VOC (volatile organic compounds) paints, installing energy-efficient windows, and utilizing sustainable building materials. By embracing sustainability, contractors not only cater to their clients' preferences but also contribute to a more environmentally conscious future.
2. Open Floor Plans and Multi-functional Spaces:
Gone are the days of small, compartmentalized rooms. Open floor plans that allow for seamless flow between living, dining, and kitchen areas have become highly sought after. Home renovation contractors are knocking down walls to create spacious and interconnected living spaces. Multi-functional spaces are also gaining popularity as homeowners seek versatility in their homes. Contractors are adept at designing rooms that can serve multiple purposes, such as combining offices with guest bedrooms or creating play areas that can be easily transformed into entertainment spaces.
3. Smart Home Technology Integration:
Technology is becoming an integral part of modern homes, and homeowners are increasingly interested in integrating smart home technology into their renovation projects. Home renovation contractors are well-versed in installing smart devices, such as thermostats, lighting systems, security cameras, and voice-activated assistants. Contractors are working closely with clients to identify their specific needs and preferences and incorporating smart technology to create homes that are convenient, energy-efficient, and secure.
4. Aging-in-Place Modifications:
With the aging population, there is a growing trend towards making homes accessible and safe for seniors. Home renovation contractors are incorporating aging-in-place modifications into their projects, such as installing grab bars, walk-in showers, wider doorways, and ramps. These modifications allow seniors to live independently and comfortably in their homes for longer periods. Contractors are also focusing on universal design principles, which accommodate people of all ages and abilities, ensuring that homes are future-proof and adaptable.
5. Outdoor Living Spaces:
Homeowners are increasingly recognizing the value of outdoor living spaces as extensions of their homes. From cozy patios and decks to elaborate outdoor kitchens and entertainment areas, outdoor spaces are being transformed into functional and inviting environments. Home renovation contractors are skilled at creating outdoor living spaces that seamlessly blend with the existing architecture and provide elements of comfort and relaxation, such as fire pits, outdoor seating, and landscape design features. The demand for outdoor living spaces has surged, and contractors are now integrating these spaces into their renovation projects.
6. Energy-efficient Upgrades:
As energy costs continue to rise, homeowners are keen on incorporating energy-efficient upgrades into their renovation projects to reduce their carbon footprint and save money on utility bills. Home renovation contractors are installing energy-efficient appliances, upgrading insulation, and integrating smart systems for lighting and temperature control. Contractors are also offering energy audits to identify areas for improvement and provide recommendations on energy-saving measures. By focusing on energy efficiency, contractors are helping homeowners achieve long-term savings and sustainability.
7. Customization and Personalization:
Homeowners are seeking unique and personalized spaces that reflect their individuality and lifestyle. Home renovation contractors are embracing this trend by offering customized design solutions and incorporating clients' preferences into their projects. Whether it's a specific color scheme, custom cabinetry, or unique architectural features, contractors are working closely with their clients to bring their visions to life. By providing customized renovation solutions, contractors are ensuring that each project is a reflection of the homeowner's personality and style.
Conclusion:
The home renovation and remodeling industry is evolving rapidly, with new trends and preferences continuously emerging. From sustainability and eco-friendly practices to open floor plans and smart home technology integration, home renovation contractors are adapting to meet the needs and desires of homeowners. By staying updated with the latest trends and incorporating them into their projects, contractors are able to provide innovative and personalized solutions that enhance the comfort, functionality, and value of homes. The industry's focus on sustainability, energy efficiency, aging-in-place modifications, outdoor living spaces, and customization ensures that homeowners have a wide range of options to transform their spaces and create their dream homes.
Got Questions? Let Us Help!
WSL Incorporated (WSL Inc.) is a full-service design/build company located in New Bloomfield, PA. For more than 30 years, we have been building affordable custom homes, as well as remodeling homes, in central Pennsylvania. Our company offers professional project management services from the start of the design phase all the way through to the warranty services, and we have in-house designers available to create a customized plan for you. No matter what the size, budget or needs of your project, WSL Inc. will help you every step of the way. We will make sure your project is completed to your satisfaction.  Call us today at 717-582-3423, we look forward to hearing from you!